What is Nanotechnology?
Nanotechnology is science, engineering, and technology conducted at the nanoscale, which is about 1 to 100 nanometers.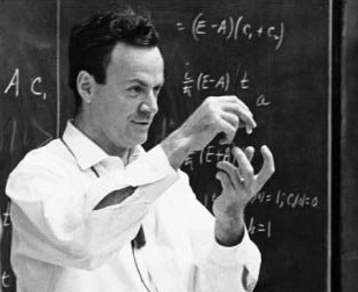 Physicist Richard Feynman, the father of nanotechnology.

Nanoscience and nanotechnology are the study and application of extremely small things and can be used across all the other science fields, such as chemistry, biology, physics, materials science, and engineering.

How it Started
The ideas and concepts behind nanoscience and nanotechnology started with a talk entitled 'There is Plenty of Room at the Bottom' by physicist Richard Feynman at an American Physical Society meeting at the California Institute of Technology (CalTech) on December 29, 1959, long before the term nanotechnology was used. In his talk, Feynman described a process in which scientists would be able to manipulate and control individual atoms and molecules.

Over a decade later, in his explorations of ultraprecision machining, Professor Norio Taniguchi coined the term nanotechnology. It was not until 1981, with the development of the scanning tunneling microscope that could 'see' individual atoms, that modern nanotechnology began.

Fundamental Concepts in Nanoscience and Nanotechnology

Medieval stained glass windows are an example of how nanotechnology was used in the pre-modern era.

It is hard to imagine just how small nanotechnology is. One nanometer is a billionth of a meter, or 10-9 of a meter. Here are a few illustrative examples:

There are 25,400,000 nanometers in an inch
A sheet of newspaper is about 100,000 nanometers thick

On a comparative scale, if a marble were a nanometer, then one meter would be the size of the Earth

Nanoscience and nanotechnology involve the ability to see and to control individual atoms and molecules. Everything on Earth is made up of atoms the food we eat, the clothes we wear, the buildings and houses we live in, and our own bodies.
But something as small as an atom is impossible to see with the naked eye. In fact, it is impossible to see with the microscopes typically used in a high school science classes. The microscopes needed to see things at the nanoscale were invented relatively recently, about 30 years ago.
Once scientists had the right tools, such as the scanning tunneling microscope (STM) and the atomic force microscope (AFM), the age of nanotechnology was born.
Although modern nanoscience and nanotechnology are quite new, nanoscale materials were used for centuries. Alternate-sized gold and silver particles created colors in the stained glass windows of medieval churches hundreds of years ago.
The artists back then just did not know that the process they used to create these beautiful works of art actually led to changes in the composition of the materials they were working with.

Today's scientists and engineers are finding a wide variety of ways to deliberately make materials at the nanoscale to take advantage of their enhanced properties such as higher strength, lighter weight, increased control of light spectrum, and greater chemical reactivity than their larger scale counterparts.
What Are Superfoods?
Anti-Aging Superfoods To Stay Younger Time waits for none, and as it wanes by, we slowly lose our youthful looks and start developing signs of aging. We cannot stop the clock from ticking or turn back the wheels of time, but we can definitely prevent anti aging signs to show up on our face or body.
Superfoods have anti aging properties that help you stay younger so that the mirror reflects the older you.

Here are some popular anti aging superfoods to help you stay younger:
Almonds: They are rich in amino acids which promotes muscle growth and testosterone levels inside the body. They lower bad cholesterol and insulin levels. Almonds also contain vitamin E which protects you from sun damage and also works like an antioxidant to avoid damage caused by free radicals.

Flaxseeds: These anti aging seeds are rich in protein, fiber, and omega-3 fatty acids. They aid in removing spots and fine wrinkles in the skin. Studies have proved that they are effective in keeping you younger looking.

Tomatoes: Red tomatoes are best as they contain high amounts of antioxidant lycopene; however processed tomatoes are as good as the raw ones as it becomes easier for the body to absorb the lycopene. They are helpful in lowering the risk of prostate, bladder, lung, skin, and stomach cancers.

Sweet Potatoes: They are one of the healthiest foods, known to prevent diabetes and aid in weight loss. They contain glutathione which enhances the immune system and metabolism. It also helps protect against fatal diseases such as liver disease, heart attack, cystic fibrosis, HIV, cancer, Parkinson's, Alzheimer's, and stroke.

Spinach: Also known as a popular muscle builder, it contains minerals such as potassium and magnesium. It also contains lutein that prevents clogging in arteries. It is rich in vitamins and nutrients, which helps build bone-mineral density and reduce the risk of prostate cancer, skin tumors, colon cancer, and improves flow of blood to penis.

Rosemary: It contains carnosic acid which reduces chances of stroke. Rosemary also protects against the effects of aging.

Wild Salmon: It contains DHA, EPA, and omega-3 fatty acids, which are helpful in keeping you active, agile, and young.

Other suggested names of superfoods that you may consume to remove the signs of aging and get back a youthful 'you' are blueberries, green tea, dark chocolate, tuna, carrots, dried plums, whole grains, red wine, plain yoghurt, apples, seafood (Alaskan King Crab), pomegranates, olive oil, leeks, artichokes, chili peppers, ginger, pak chpy, oysters, broccoli, kiwis, cinnamon, eggs, figs, grass-fed beef, mushrooms, pineapples, vegetable/ fruit juice, avocado, walnuts, turmeric, black beans, and bing cherries.

Keeps Skin Silky and Smooth When you want silky and smooth skin, there's nothing better than nutrition.
Well nourished skin glows and looks radiant, and this is not possible by applying layering of makeup on your face. When you are healthy inside out, it shows on your face so it is important to take good care of your health and eat highly nutritious food. Here are some important superfoods that can help you get that youthful look on your skin.

Astaxanthin: This is the deep-red microalgae, a fat-soluble antioxidant which protects the skin from sunburn, and eliminates the need for any sunscreen lotions. They are also known to protect the eyes from UV damage and the nervous system from oxidative damage.

Marine Omega-3 Oils: They are known for their ability to boost the health of the body, and are more potent than flaxseed oil or chia seeds. Ocean derived omega-3 oils promote healthy skin, and they also boost the respiratory system, cardiovascular system, nervous system, and several other functions of the body.

Raw foods and fresh juice: They can do wonders for the skin, by making people look youthful and stay vibrant. Dead foods make your skin age prematurely, so switch to living foods to avoid eczema, acne, rashes, and various other skin conditions.

Pumpkin Seeds, Shellfish, and Zinc: These superfoods are highly essential to support injury and skin repair, which are important to ensure that years don't start showing on your face. Pumpkin seeds and shellfish are good sources of zinc and they allow your cells to construct and maintain their integrity. It also boosts the regeneration of new skin.

Besides eating the aforementioned superfoods, it is also essential that you drink adequate amounts of clean water to keep your skin hydrated and healthy. Also, you should avoid some foods that are notorious for making you age faster, and these are dairy products, fried foods, and processed foods.